Introduction of RPA
RPA refers to software that can be easily designed to do basic, repetitive operations across multiple applications. It is a program or related technology that is used to automate and streamline certain duplicate clerical tasks for an organization. This is intended to save money while enhancing efficiency.
Robotic process automation (RPA) is transforming office labor, just as mechanical robots transformed assembly lines in the 1960s. A software robot can perform any repetitive work with rules more quickly, cheaply, and precisely, and future developments in artificial intelligence (AI) are expected to dramatically boost this productivity.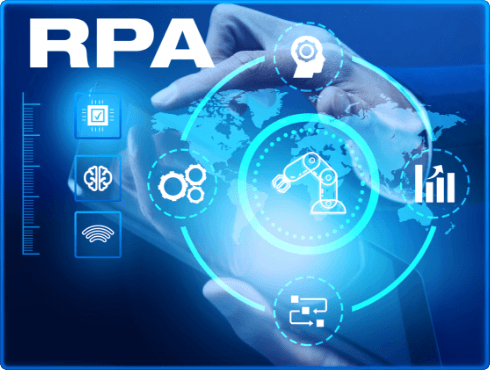 The world of work is changing as a result of RPA technology
RPA technology is transforming the way that work is done. Instead of actual humans, automated machines today carry out the monotonous and low-value operations including enrolling in systems and applications, transferring files or folders, obtaining, duplicating, and inserting data, filing papers, and producing routine analyses and reports.

Advanced robots are capable of performing cognitive activities, including language interpretation, conversational interaction, the processing of unstructured data, and the use of cutting-edge machine learning models to make difficult judgments. When robots take over these types of repetitive, high-volume work, humans are free to focus on the things they do best and enjoy most, such as developing, collaborating, producing, and communicating with clients. Businesses also profit from increased output, effectiveness, and resilience.It makes sense why RPA is altering the history of the workplace.

RPA across businesses

Across a wide range of businesses and processes, RPA is currently creating new efficiencies and releasing employees from monotonous tasks.Businesses in industries ranging from financial services to healthcare to manufacturing to public sector to retail and much beyond have embraced RPA in areas as diverse as finance, compliance, legal, customer service, operations, and IT.And that is only the beginning. Because RPA offers such a wide range of applications, it has become so popular.

Automation is a great fit for any high-volume, business-rules-driven, repeatable process, and cognitive tasks that require more advanced AI capabilities are becoming suitable as well. The healthcare sector benefits the most from this service. Companies that manufacture medical devices can gain from this system by improving the quality of their goods and services while also cutting expenses. With the aid of RPA as a service, they can also raise their revenue and profitability.

You may easily automate your industrial operations with RPA as a service, or robotic process automation as a service. Removing ineffective tasks lessens the need for physical labor and lowers costs. Your manufacturing and distribution operations can become more productive thanks to these automated production technologies. In fact, these can raise your revenue and profitability as well. The quality of the goods and services that are sold is also improved through robotic process automation as a service (RPAaaS). By reducing redundant procedures, faults, and other flaws that could impair the quality of the sold goods and services, this service can also aid in raising their level of excellence.

Additionally, the system has the power to raise your company's profitability. This is possible because you can lower the costs associated with manufacturing the goods and providing the services. Reducing the amount of manual labour needed in manufacturing and retail operations with robotic process automation as a service (RPAaaS) will increase the productivity and profitability of your production line.By cutting costs and raising productivity, the system can improve the effectiveness of the production process.
More about Robotic Process Automation
Robotic process automation (RPA) is a technique for automating high-volume, repeated processes that mimics how humans interact with software. RPA technology generates software programs or bots that can log into apps, enter data, compute and finish tasks, and copy data between apps or workflows as needed.

When AI and machine learning are combined, RPA can extract more context from the content it's working with by reading text or handwriting with optical character recognition (OCR), extracting entities like names, invoice terms, or addresses using natural language processing (NLP), and capturing more context from images, such as automatically estimating accident damage in an insurance claim picture.

Another benefit of RPA is that it may be implemented without the need for business units to learn new tools or seek IT support and without modifying an organization's underlying IT architecture.

However, as RPA becomes more widespread, businesses are seeing the necessity to integrate RPA process automation into their IT systems.

RPA is gaining traction due to its ability to cut costs, streamline processes, and improve user experiences.
Benefits of RPA
Reduce workload

Makes processes more efficient

Reduce operational costs

Improve compliance

Increase reliability

Track progress of projects

Optimise performance

Mitigate fraud

Eliminate human error
Want to know more?
To know more about our Modern solution services, please do fill the form in the right side.
Reach US
+971 43347147
info@technomaxsystems.com