April 15 2022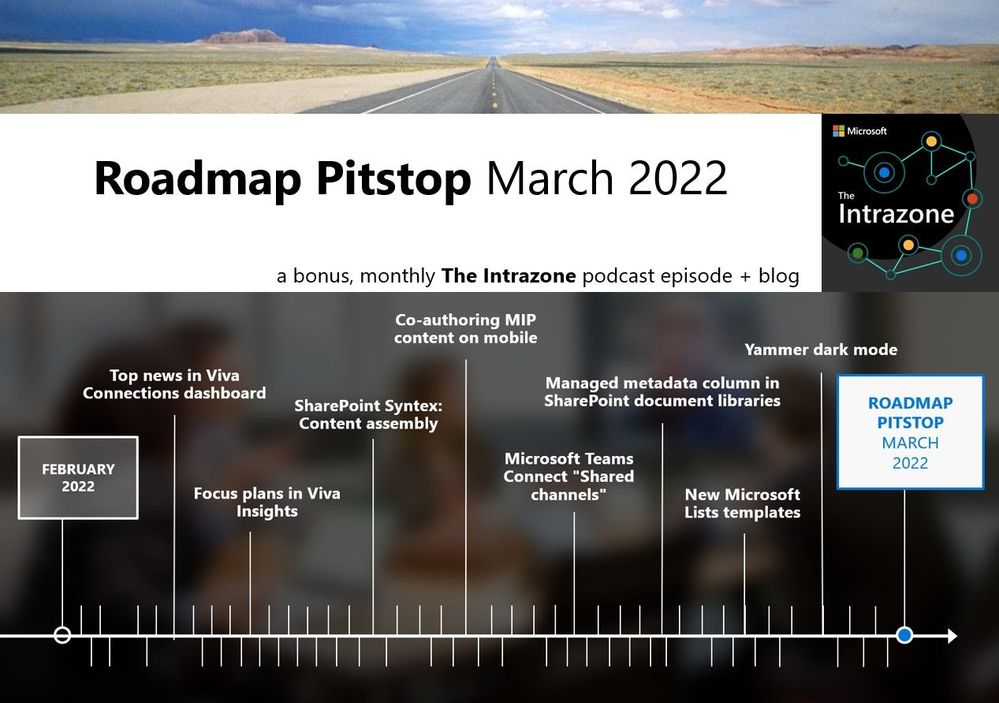 The Intrazone Roadmap Pitstop – March 2022 graphic showing some of the highlighted release features.
If you're sporting any Microsoft 365 gear, you'll know it's #MerchMadness! Below is a list of 12 non-elimination cloud characteristics that we'll go over... Also known as the NC-triple-A of technology, which stands for "Nice Consolidated Assessment of Awesome Additions".
Improve information to the Viva Connections dashboard, awareness plans in Viva Insights, SharePoint Syntex: March 2022 maintains strong in Microsoft 365, bringing the goodness: improve information to the Viva Connections dashboard, focus plans in Viva Insights, SharePoint Syntex: content introduction, Microsoft teams join "Shared channels," and mobile co-authoring of MIP content material SharePoint report libraries with controlled metadata columns, new Lists templates, Yammer dark mode, and more are all described beneath with screenshots and hyperlinks to in addition information.
As of March 2022, all the features listed below were available to Targeted Release customers in Microsoft 365. (Possibly early April 2022).
1. Inform and occupy with dynamic employee experiences
Top news card on Viva Connections control panel
Microsoft Viva Insights: Register in Focus plan from the 'Insights' app in Teams
SharePoint Syntex: Content assembly
2. Teamwork updates across SharePoint team sites, OneDrive, and Microsoft Teams">
Microsoft Teams Connect shared channels are emerging to the public attention
Co-authoring on Microsoft Information Protection encrypted documents, now in public preview for mobile devices
Modern SharePoint library views will allow adding taxonomy column
3. Related technology
New list templates for the Microsoft Lists - MSA Preview
Microsoft 365 Information Governance will be announcing the general availability of withholding policies for Yammer messages
Dark Mode is now in the New Yammer (within the Web interface)
Machine Translation Services is soon entering end-of-service
4. April 2022 teasers
Still, scrolling the page and probing for more roadmap goodness? If so, here is a few teasers of what's to come to creation next month…
Teaser 1: OneDrive: Pin shared libraries to quickly access them
Teaser 2: Bookmarks in New Yammer
Follow us to catch the latest updates and interesting SharePoint-related stuff.
Thanks for coming in and/or reading this blog.
Engage with us. Ask those questions. Push us in every aspect you want and need to get the best guidance and understanding. We are here to put both of our best change management.
Interact with us. Ask those important questions. Compel us in what you want and get quality data and insights. We're right here to position both our and your first-rate change management to go that extra mile.
Stay safe out there on the roadmap, and thanks for reading.
We appreciate your time, until next time.