Customer
Customer is a renowned facilities management company in United Arab Emirates. Headquartered in the emirate of Abu Dhabi in the United Arab Emirates. The company is in the business of Consultancy, Sales, leasing and management of residential, office and retail properties. The company has developed considerable in-depth experience within the retail sector, and real estate industry as a whole, and built a strong network across the entire Middle East region.
| | |
| --- | --- |
| Industry | Facilities Management |
| Technology | Microsoft Graph |
Challenge
Being a facilities management company, the company had huge volume of documents and varied type of communications submerged across different systems. Also, they were, holding those contents for their critical nature, even though the systems are legacy in nature. This leads to most of the valuable project details are trapped in silos or the heads of employees, quickly forgotten, and permanently lost when people leave the company.
Also, HR and IT teams spend a lot of time supporting users and answering their questions via email or phone. Users may have to wait a day or more for an answer, and then more hours or days if they have follow-up questions. The whole process is costly, time consuming and frustrating.
So, the client was looking for a unified platform for effective communication and collaboration that could meet these goals.
Solution
After looking into the client's requirement, TechnomaX team rolled out REMO – a collaboration portal powered by Microsoft Graph in entirety. The solution was arrived in a way, where in the customer uses their own tenant for all document repository needs. However, the portal runs from hosted cloud for REMO. All the data access as well as the permission controls were governed purely by Microsoft Graph. REMO turned out to be the optimal platform to address the Customer's needs.
Security Focussed workspace
The customer needs were predominantly driven from the following:
A system were security of content is of utmost importance
A collaborative workspace, which can be updated as and when new productivity services are added  
A system in future that can seamlessly integrate for bots and automation.
Looking into those above needs, REMO was designed for client. REMO is purely powered by Microsoft Graph. Microsoft Graph brought in the best of SharePoint Online from content management and control perspective. Also, it had the services of Microsoft 365 and the related application using REST APIs. With security at its core in Microsoft Graph, it offered the intelligent data to empower the team in their productivity and collaboration. At the same time, for the client a peace of mind, where in the data is their tenant only.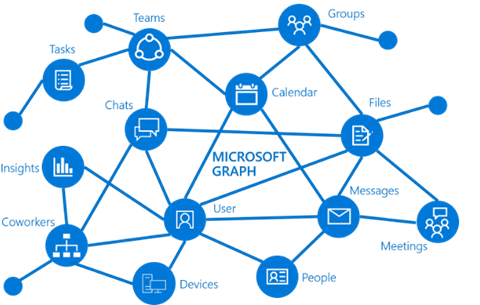 Image source: Microsoft Graph
Benefits
The implementation of the collaboration portal and workspace allowed the Customer to reach several vital goals.
Employees, who have to work together, can use REMO to discuss projects and tasks. With the REMO workspace , they can also use the platform to share information. This not only helps employees to work as a team, it also allows them to meet deadlines and be more productive at their workplace.
Since all employees in an organization have access to the REMO , major announcements or HR surveys can be dispatched to everyone through the intranet. It allows top executives to keep in touch with the staff and this, in turn, boosts employee engagement.
Anything that happens within the organization and discussed on the SharePoint intranet is recorded and stored for future reference. As a result, issues can be resolved more quickly, and the company in-charge will always know what is happening in the organization with the help of the corporate dashboard. This allows the management to have better control over the organization while making sure that problems and issues are efficiently resolved in a timely manner.
REMO using the capability of SharePoint can easily create workflow for that business process. By entering a few commands, you can develop the workflow and the stakeholders are constantly notified about their tasks while you are updated about each task. This makes it simple to keep track of information and responsibilities, thereby allowing projects to be completed on time. REMO allowed information related to a project or department be stored at a single location. So, using the search tool to find any content or document allows users to locate the required information more easily and quicker. This helps save time and allows employees to be more productive.